Acupuncture, a medical treatment originating from ancient Chinese culture, has become increasingly popular in the United States and Western Medicine. When most people think of acupuncture, they think of it as a treatment for pain relief, particularly back pain. While this is a very common use for acupuncture, as is receiving acupuncture for sports injuries, depression, anxiety, insomnia and cosmetic benefits, there is another increasingly popular reason people are trying: acupuncture for allergies.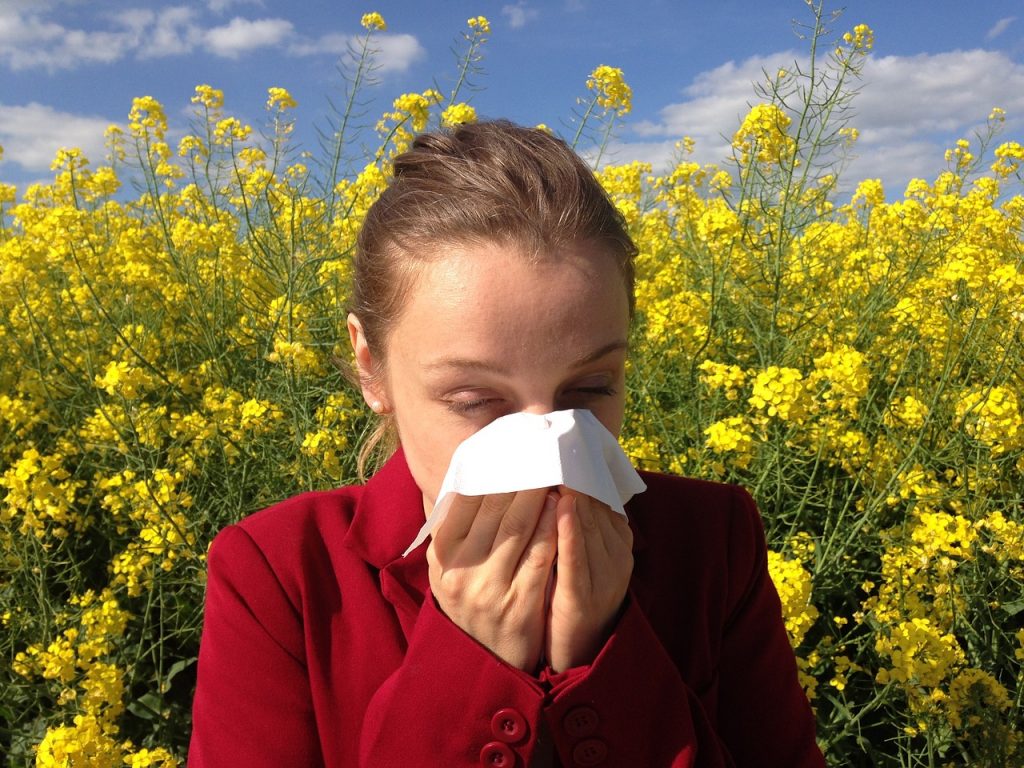 In the past decade alone, more and more studies have been conducted resulting in evidence that acupuncture for allergies and allergy symptoms such as a runny or stuffy nose, sneezing, and itchy or watery eyes really works. When you think about how acupuncture works in the body to relieve pain and other complications, it makes sense that it would also cure the uncomfortable symptoms that go along with having allergies.
Acupuncture works by restoring the healthy flow of energy, or qi, through the body's meridians by inserting tiny needles at specific points throughout the body. Specifically for allergies, acupuncture aims to correct the blockages and imbalances that occur in the meridians and organs as a result of allergic reaction to pollen and other allergens. When these allergens are released, mostly in the spring and summer, the attachment of the allergens to the body's white blood cells often causes the release of the chemical histamine, which causes allergic reactions.
Does Acupuncture For Allergies Really Work?
In an article by Patrick J. LaRiccia, M.D. at American Academy of Medical Acupuncture, he states that "Western medicine views seasonal allergies as a form of immediate hypersensitivity reaction which occurs when anti-bodies produced by lymphocytes interact with airborne particles such as pollen." He goes on to describe the locations of lymphocytes as being in the bloodstream, gastrointestinal tract, spleen, lymph nodes, and bone marrow. In his acupuncture practice, he claims that the spleen, stomach, and large intestine meridians are utilized a great deal for patients with allergies. Some patients even get relief during their first visit from acupuncture, he says.
Another study to prove the effectiveness of acupuncture for allergies was done at the University Medical Center in Berlin. An article on healthline.com outlines the study of the effectiveness of acupuncture allergies. In this study, 422 people were divided into three groups for two months: one group received acupuncture treatment, the second received "fake" acupuncture, with needles placed in random, meaningless spots on their bodies, and the third group only took antihistamines. At the end of the study, the group that received acupuncture therapy reported greater relief from symptoms than the other two groups.
Despite studies and testimonials claiming that acupuncture for allergies does work, many people are still skeptical and believe that not enough scientific evidence is available to support this claim. In an article on Evidence Based Acupuncture, the author details the scientific ins and outs of exactly how acupuncture reduces the symptoms of allergic Rhinitis, such as a runny nose. This article provides multiple scientific research-based sources that prove that acupuncture does improve the quality of life of patients who experience seasonal allergies.
Other Natural Ways To Relieve Allergy Symptoms
Over the counter antihistamines can cause uncomfortable side effects such as drowsiness, dizziness, dry mouth, nausea, confusion and more. Rather than rely on pharmaceutical drugs to treat symptoms for allergies, consider trying out one or all of the methods below, in addition to acupuncture:
Herbal Supplements
Herbal supplements such as green tea, licorice root, and an herb called butterbur contain natural antihistamines and may reduce allergy symptoms.
Dietary Changes
Spicier foods can help relieve congestion, so try adding cayenne pepper, hot ginger, onion and garlic to your meals.
Nasal Rinses like Neti pots can relieve nasal congestion.
Allergy Proofing
Vacuuming to eliminate dust, closing windows and doors, and buying dust-proof pillows and mattresses can call provide relief for allergies.
In our society today, more people are turning to natural approaches to illness rather than over-the-counter prescription drugs. Because of its rising success rate and non-existant negative side effects, acupuncture is quickly becoming one of the most commonly used natural approaches to medicine.